Helios64 Overview¶
Block Diagram¶
Helios64 Board¶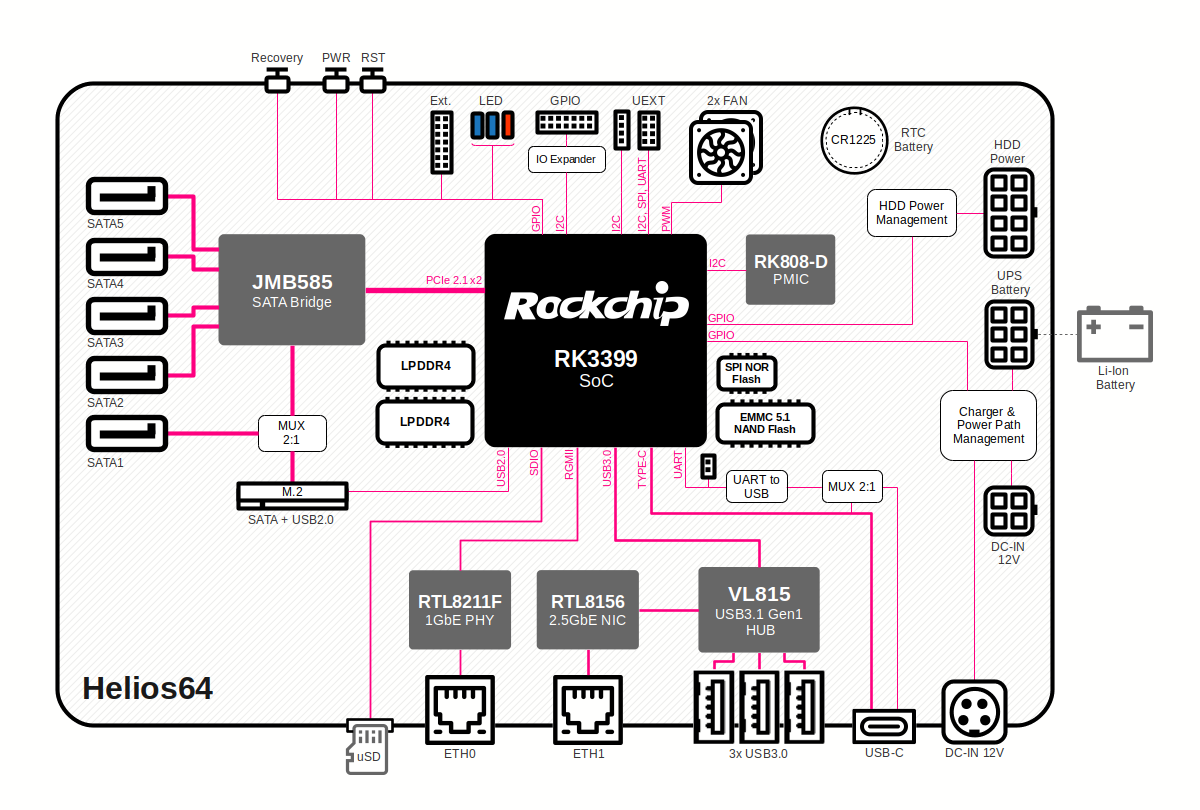 RK3399 System-On-Chip¶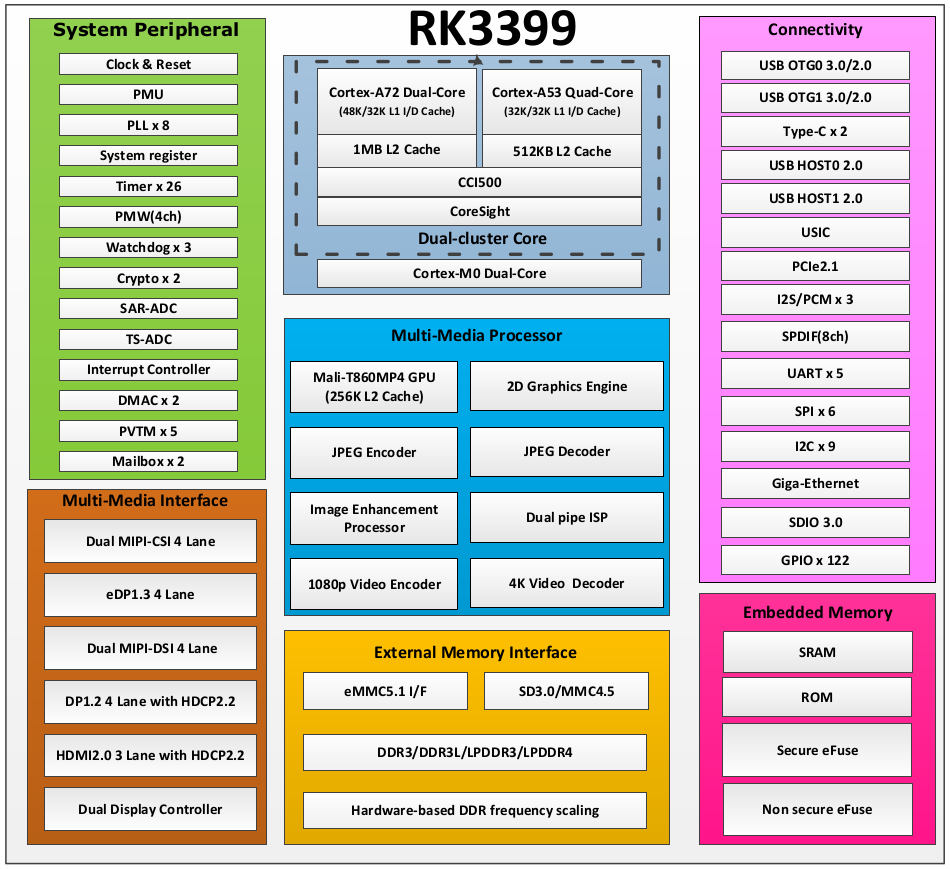 This block diagram is cited from the RK3399 website documentation. 1
Connector / Interface List¶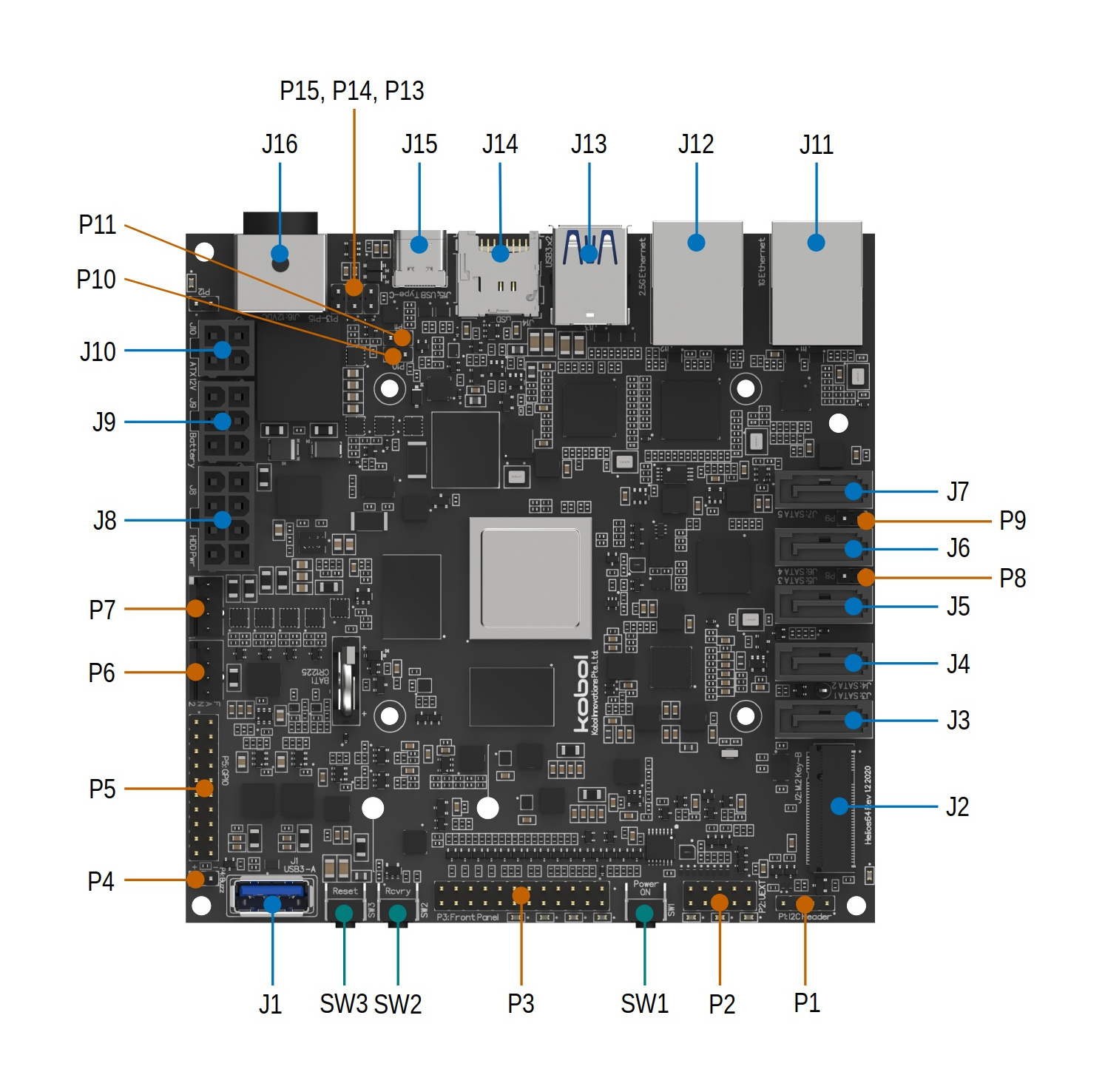 Name
Peripheral Type
Connector Type
Details
J1
USB 3.0
USB 3.0 Type-A
USB 3.0 Port 3
J2
M.2
M.2 Key-B
M.2 Slot for SATA SSD
or USB 2.0 Device
J3
SATA
SATA 3.0
Port 0 (SATA1)
J4
SATA
SATA 3.0
Port 1 (SATA2)
J5
SATA
SATA 3.0
Port 2 (SATA3)
J6
SATA
SATA 3.0
Port 3 (SATA4)
J7
SATA
SATA 3.0
Port 4 (SATA5)
J8
HDD Power
8 Pin Mini-Fit Jr
HDD Power 5V + 12V
(supports 5x HDD)
J9
UPS Battery
6 Pin Mini-Fit Jr
UPS Battery Power
J10
ATX PSU
4 Pin Mini-Fit Jr
DC input 12V
J11
LAN1
RJ45
Gigabit Ethernet
J12
LAN2
RJ45
2.5 Gigabit Ethernet
J13
USB 3.0 (x2)
Dual USB 3.0 Type-A
USB 3.0 Port 1 and 2
J14
microSD
Push-Push card connector
Support SDHC and SDXC
J15
USB Type-C
USB Type-C Connector
Supports following:
- DisplayPort Mode
- DAS Mode
- Host Mode
- Serial Console
J16
AC Adapter
Kycon 4-Pin Mini-DIN
DC input 12V
P1
I2C
4x1 Pin Header
I2C Bus
P2
UEXT
2x5 Pin Header
Universal EXTension
(I2C, SPI and UART)
P3
Front Panel
12x2 Pin Header
Front Panel Extension
P4
Buzzer
2x1 Pin Header
Buzzer Alarm Speaker
P5
GPIO
7x2 Pin Header
User Configurable GPIO
P6
PWM Fan
4x1 Pin Header
Fan 1 with PWM support
P7
PWM Fan
4x1 Pin Header
Fan 2 with PWM support
P8
SATA Ctrl. Programming
2x1 Pin Header
SATA Controller Flash Enable
P9
eFuse Programming
2x1 Pin Header
eFuse Power Supply Enable
P10
eMMC Flash Disable
2x1 Pin Header
Disable eMMC
P11
SPI Flash Disable
2x1 Pin Header
Disable SPI Flash
P12
Battery Configuration
2x1 Pin Header
unpopulated
P13
USB Console/Recovery Mode
2x1 Pin Male Header
USB-C HS Mode
P14
UART Debug
2x1 Pin Male Header
UART 2 Debug
P15
ATX Priority Jumper
2x1 Pin Male Header
ATX Supply Priority
SW1
Power Button
Push Button
Power Button
SW2
Recovery Button
Push Button
Recovery Button
SW3
Reset Button
Push Button
Reset Button
Power Consumption¶
Board only
State
DC measured
power consumption
AC calculated
power consumption
Remarks
Idle
5.4 W
6.2 W
CPU Load
10.8 W
12.4 W
stress-ng (all cores)
Full Kit (with 5x HDDs)
State
DC measured
power consumption
AC calculated
power consumption
Remarks
Idle
25.2 W
29 W
Suspend
8.4 W
9.7 W
Suspend-to-RAM, HDD in Standby mode
CPU Load
31.2 W
35.9 W
stress-ng (all cores)
HDD Read
36 W
41.4 W
dd read (no caching) from RAID6 array
HDD Write
34.8 W
40 W
dd write (no caching) to RAID6 array
Network Access
33.6 W
38.6 W
HTTP download from RAID6 array
Stress Test
40.8 W
47 W
stress-ng (all cores) + fio (all disks) + iperf
Note
Measures were done using a Current Clamp Meter on the Helios64 12V DC input. AC Power consumption is calculated based on a AC/DC conversion efficiency of 85%.
Meter tool : Extech 380942 - 30A True RMS AC/DC Mini Clamp
AC/DC Adapter : 12V 10A (efficiency : 85%)
HDD: 5x Toshiba P300 1TB (HDWD110) configured as RAID6
Network : Connected at 2500Mb/s
Fan : Medium speed (PWM 100)
Battery : Charge status 100%
OS: Armbian Ubuntu (Bionic) Linux 4.4.213-rk3399
Power consumption depends a lot on the HDDs brand and model used.
HDD Recommendation¶
We recommend HDD which are designed for NAS (Network Attached Storage). Those NAS HDD are specially conceived for reliable 24/7 operation and offers lower power consumption and dissipation, less vibration and noise, and finally better warranty. We recommend the following brands / families :
Western Digital : WD Red NAS
Seagate : IronWolf NAS
HGST : Deskstar NAS
Toshiba : NAS N300
---
Last update: June 11, 2020
Comments