Ethernet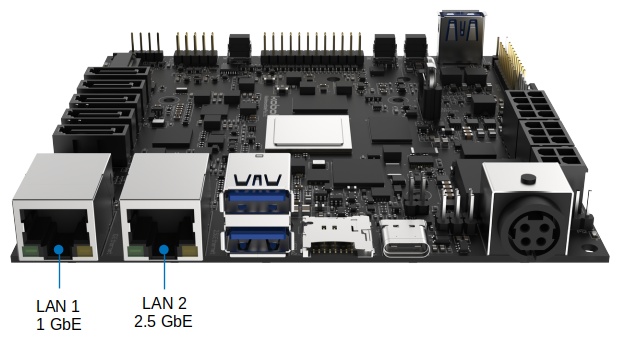 Helios64 has 2x BASE-T Ethernet interfaces :
LAN 1 : 1000BASE-T (1 Gbit/s)
LAN 2 : 2.5GBASE-T (2.5 Gbit/s)
LAN 1 is the native Gigabit Ethernet interface from SoC RK3399. The interfaces is exposed through the Ethernet transceiver RTL8211F connected to RK3399 via RGMII.

LAN2 is the Multigigabit (2.5Gb) Ethernet interface provided through Realtek RTL8156 controller which is an USB3.0 to LAN bridge. The controller is connected to RK3399 via VL815 USB 3.0 Hub.

Features¶
Both Ethernet interfaces supports the following features :
Transfer Rate Auto-Negotiation
Full-duplex and Half-duplex operation
IEEE 802.3az Energy Efficient Ethernet
IEEE 802.1Q VLAN tagging
Wake-on-LAN (WOL)
Crossover Detection & Auto-Correction
Automatic Polarity Correction
About MAC address¶
Each Helios64 unit comes with a unique MAC address for each Ethernet interfaces. These MAC addresses, allocated and programmed during manufacturing process, comes from a MAC Address Block assigned to Kobol Innovations Pte. Ltd. by the IEEE Registration Authority.
The following MAC Address Block Medium (MA-M) has been allocated to us :
| 28-bit Base Value | EUI-48 Address Block |
| --- | --- |
| 64-62-66-D | 0-00-00 through F-FF-FF |
---
Last update: April 20, 2020
Comments